ECUHELP HTprog Clone Adapter, by working together with ECUHELP KT200, can perform Chip tuning / ECU Cloning, on bench programmer, EEPROM programmer, key function etc. 
[Upgraded Version]

ECUHELP HTprog Clone Adapter for ECUHELP KT200
Software version: 1.0.45

HTprog Update on August 1, 2023: Add one Power Box
If you want one HTprog PowerBox, please message Oliver WhatsApp:
http://wa.me/8618205996549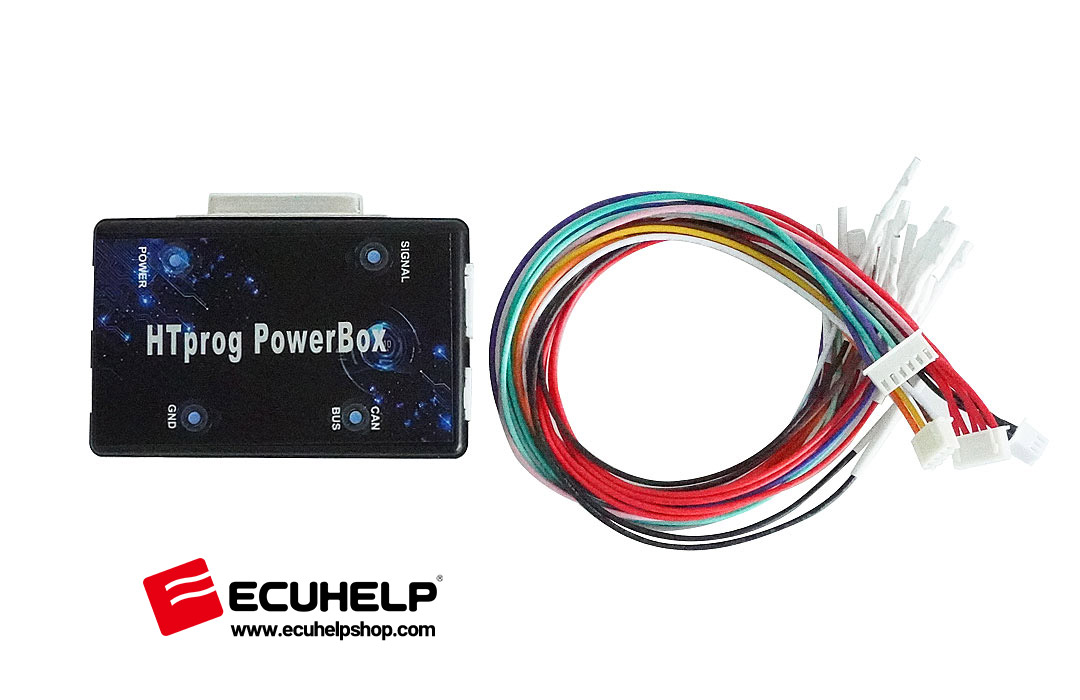 HTprog Update on June 25, 2023:
Rework the hardware
Fix some bugs
HTprog Clone Adapter, when used with KT200, does not require email activation and can be used directly.
BMW CAS3 0L15Y0M23S p-flash Read: OK
BMW CAS3+ Vin Edit, eeprom &flash read/write: OK
BMW 080D0WQ eeprom read/write, mileage edit: OK
Jtag function is working fine
M35080 is working
KT200 Kit Test Reports:
KT200 with HTprog Clone Adapter Read CAS3+ 0L15Y-15 100% OK.
HTprog and ECUHELP KT200 test no issue for EDC17CP49 BMW X4 , 2016 Backup, read P-Flash, D-Flash and read Long ISN.
HTprog and ECUHELP KT200 read/write EDC17CP45 OK.
HTprog and ECUHELP KT200 read/write EDC17C55 OK.
I have HTprog to work together with KT200:
edc17c45 ok
edc17c50 ok
edc17c49 ok
ALL BMW is tested ok
read and write tunning file except for the second edc17c45, first was ok, but the second has written the file, no changes to the car, I tried 2 times with 2 different files, but the same results. i think is something with the checksum correction made by HT, i will try also with manual checksum.
Have HTprog work with KT200 to clone EDC17C50 OK.
HTprog Feedback:
I try some med17 ecus and all reading.
BMW MSS60L is tested with no issues.
Htprog Read/write sid803a in boot mode Ok
Med17.5.25 and med17.5.5 reading is good.
READ EDC 17C55 OK
Read simos 18.10 OK
edc16 vag c2-mb r/w ok
edc17cp20, cp46 r/w ok
frm2 r/w ok
cas2,3 r/w ok
FRM3 repair OK
read/write edc17c60 OK.
I do not make Tprot off on c60 using this. I simply connect and read/rewrite.
HTprog read edc17c60 ok.
HTprog R/W edc17c10 edc16c34 edc16c3 ok.
The engineers at ECUHELPshop.com would like to remind users of a few important points:
1. It is advised to uninstall any antivirus software and disable the firewall before using the ECUHELP HTprog.
2. It is important not to upgrade the software to avoid any potential damage to the hardware.
3. Activation of the HTprog is necessary and should be done using the user's registered email address.
4. Install software version: 1.0.45, free download
HTProg software
HTprog activation: software needs to be activated with the email address, please follow the instruction to operate:
HTprog Highlights:
1. As an ECU Chip Tuning Tool: HTprog adapter is paired with KT200, which adds more ECUS and TCUS protocols, strengthens the cloning function, and supports more protocol cloning.
Use HT PROG adapter, support more protocols, make cloning easier to read and write, support bench/boot
Read:
HTprog ECU clone support list
2. DTC removal, adblue removal EGR cancellation, DPF cancellation, hot start, speed limit release, IMMO off , etc.
3. Make ECU-related operations by reading and writing ECU.
4. Read and write car body modules, such as CAS, SZL, FRM, AIRBAG, EZS, BCM, etc. With this function, you can easily deal with matching keys, unlocking anti-theft, adjusting instruments and repairing airbag computers, etc.
5. For the repair, calibration, and replacement of automotive electronic modules, it can even refresh the key, so that the old key can be a new key and continue to match other vehicles.
Read
HTprog on Bench programmer support list
6. HTprog Clone adapter is used with ECUHELP KT200, If you want it to work alone, you need to buy
a dongle
and
the cables
.
HTprog Functions
Chip Tuning / ECU Cloning
With HTprog you can read and write P-Flash, D-Flash, External Flash, and external EEPROM with the option of automatic checksum correction, you will have many methods in most of ECUS :
1. Factory mode (On Bench for most of ECU / TCU): with this option, you don't have to open the ECU cover. Just plug some wires for power and signals and you are ready to go.
2. Tricore Boot Mode for all Tricore ECU: Opening the ECU is mandatory to connect the boot wire on the ECU board. This method is useful when the ECU is not responding
3. BDM (Background debug mode)
4. JTAG for Renesas and Freescale
BDM Read / Write
With HTprog you are able to break the protection of immobilizers like CAS in BMW. EIZ / EIS in Mercedes Benz. BCM in Volkswagen and Porsche.etc.
Built in Editors
With HTprog you can edit many Flash data like:
Edit CAS3+ VIN, ISN and keys
Edit CAS4, CAS4+ VIN, and ISN
Edit mileage for BMW instrument clusters
Other functions
You can do key reset for many brands like Audi, BMW, MIN, Porsche, Toyota, Fiat, Renault...etc.
Read / Write a wide range of SOP8 EEPROMS.
Works side by side with Autohex to make keys.
Key Features
Master version. One License for all protocols on bench.
Supports one of the largest ECU / TCU list in Cars and Trucks for ECU cloning and Chip Tuning. Supports both old and latest ECU / TCUs from Bosch, Continental, Delphi, Marelli, Denso, Tenic, TRW and Valeo.etc.
Reads all BMW long ISN from BMW DME and DDE including MD1 and MG in the F/G series
IMMO BDM Read / Write
With HTprog you are able to break the protection of immobilizers like CAS in BMW, EIZ / EIS in Mercedes Benz.BCM in Volkswagen and Porsche...etc.
Here attach several images showing HTprog read/write P-flash for EDC17C53 completely.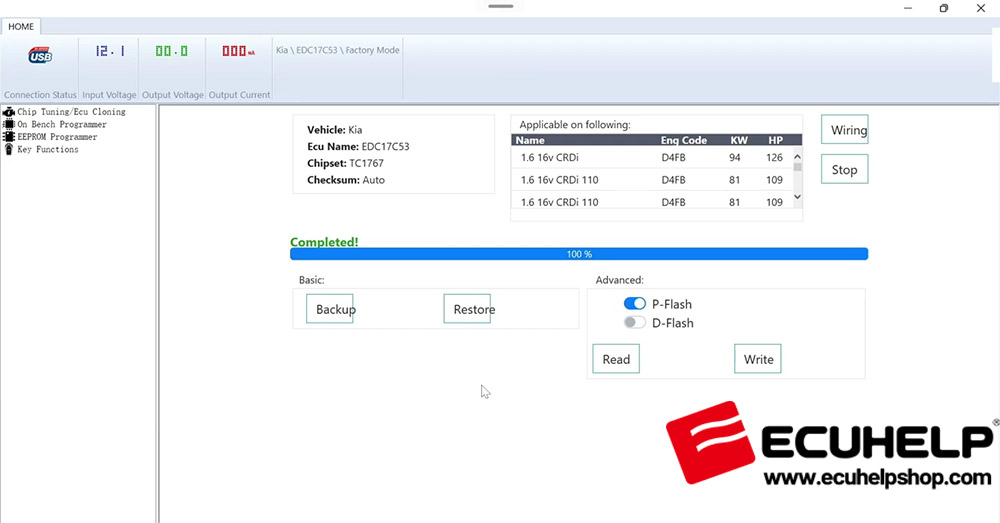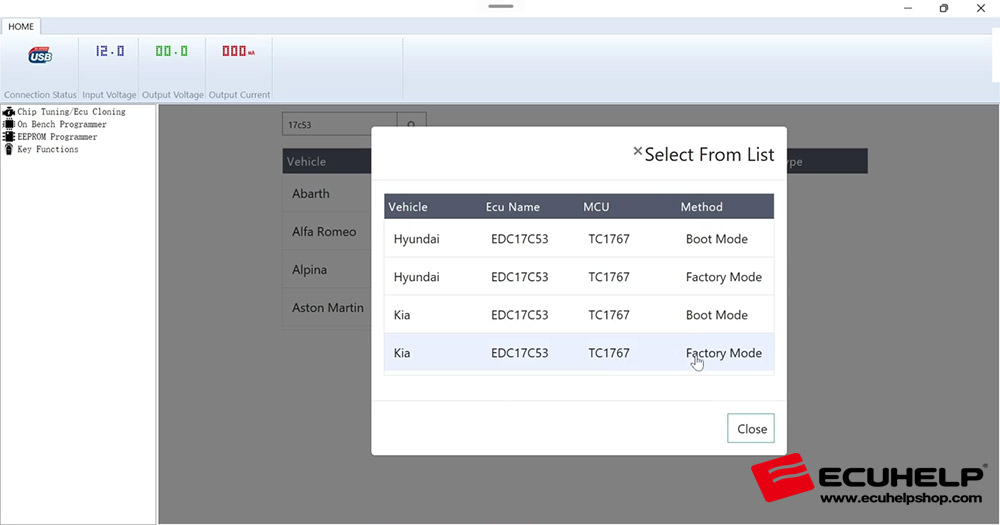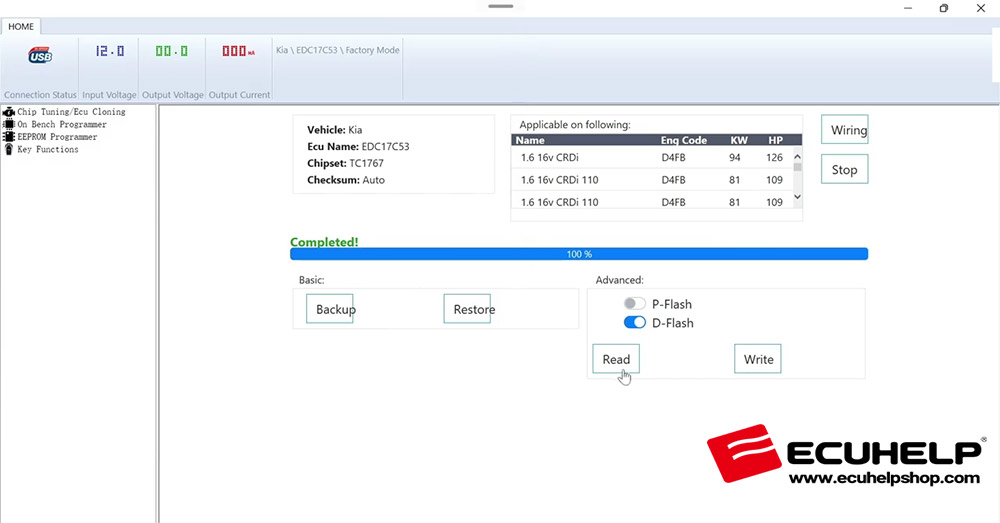 ECUhelp HTprog Clone Adapter Package List:
1pc x Tricore adapter
1pc x USB
1pc x Power Box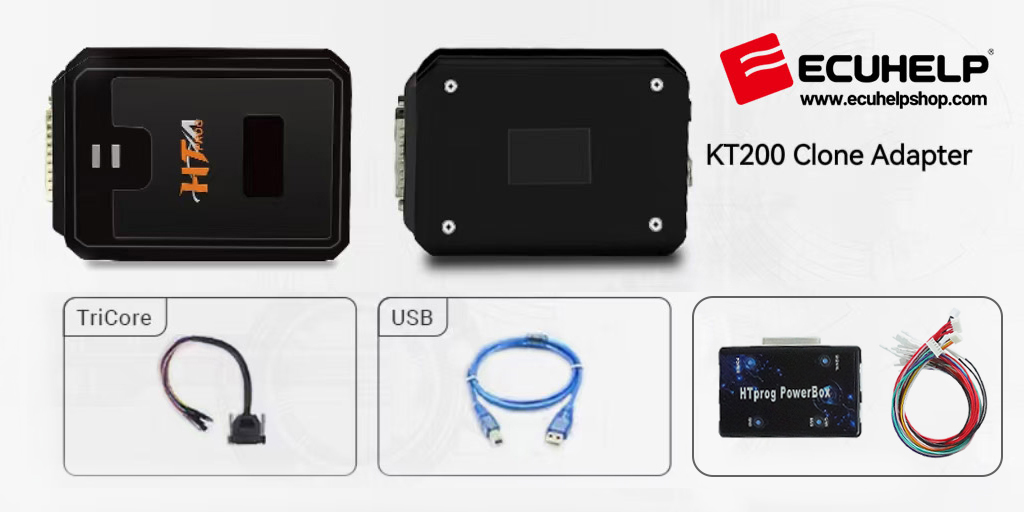 ---
We are dedicated to providing excellent support and assistance. If you have any questions, concerns, or inquiries, please don't hesitate to reach out to us. Our team is here to help!
Email:
Sales@ECUHELPshop.com
Whatsapp:
+86-18205996549
Skype:
Sales@ECUHELPshop.com
Live Chat:
Visit our website and click on the live chat option to chat with Oliver Liu in real-time.