ECUHELP KT200 ecu programmer full version in a suitcase and ship from European Warehouse.
KT200 Update on September 26, 2023:
ECUHELP released a free software called "KT300". This software fixes the automatic checksum bugs presented in KT200 and offers support for multiple ECU data checksum.
To use "KT300", simply connect the KT200 to your computer and place the software on the desktop; there's no installation required.
Download:
KT200 Checksum Software
Download: KT200 Checksum Software

[EU ship] 2023.02.01 ECUHELP KT200 ECU Programmer Full Version with Suitcase for Car Truck Motorbike Tractor Boat
ECUHELP KT200 Full Version is a powerful ECU Programmer that enables the reading and programming of engine control units (ECUs) and transmission control units (TCUs) for various car brands wordwide from Europea, USA, India, China etc. It supports different modes of communication such as OBD, on Bench, Boot mode, BDM, and Jtag systems. It can read and write the EEPROM and flash memory of ECUs types of ECUs i.e Bosch, Marelli, Siemens, Ford, Delphi, Denso, Transtron, Delco, Continental,Motorola, Valeo, Siemens Continental etc. Its versatility and broad compatibility make it a valuable tool for automotive technicians and enthusiasts.
KT200 Master Function
:
Read and write ECU data, read it in BIN unencrypted format, you can modify the data arbitrarily, you can clone ECU and use it as ECU service, the master is a personal version, you can only use it yourself, cannot unlock data for the slave.
KT200 ECU programmer software allows you to forcibly write (forcible clone) without checksumming and supports forcibly reading and writing unknown ECUs with supported chip models.
ECU maintenance, Chip tuning, DTC code Removal, and professional reading and writing equipment cover 99% of the models in the market.
Support Volkswagen Audi clone (local operation without sending data to manufacturers)
KT200 Full Read and Write TCU(MICRO + EEPROM): TCU CLONING and TCU CODING FUNCTIONS
KT200 ECU Programmer covers up to 5400 ECU, and over 500 TCU.
Support Audi/VW ECU Clone via Bench Mode pinout.
Bosch EDC17, MED17/ME17, and SIEMENS Pcr2.1(with Pinout also unlocking possibility) read and write in Bench Mode.
Also ECUHELPshop provide the following service:
DTC code Removal, EGR & DPF Removal, IMMO OFF, releasing speed limit, mileage correction, Hot start or Cold Start Vmax, and so on.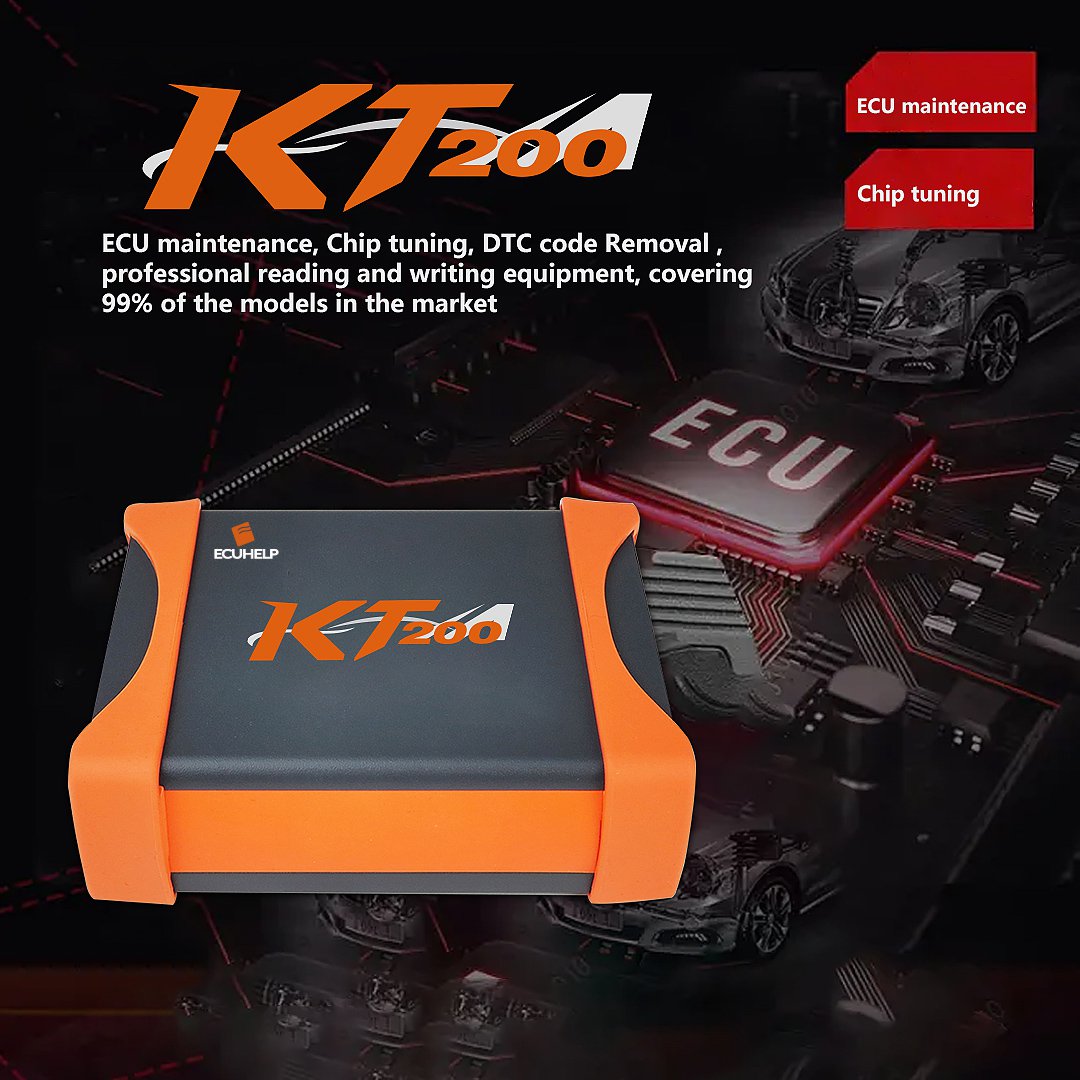 ECUHELP KT200 Full Version Highlights:
1.
Ship from EU warehouse
, No tax, no shipping cost
2. Packed with a
solid suitcase
.
3. Work in online mode, please ensure a stable internet connection.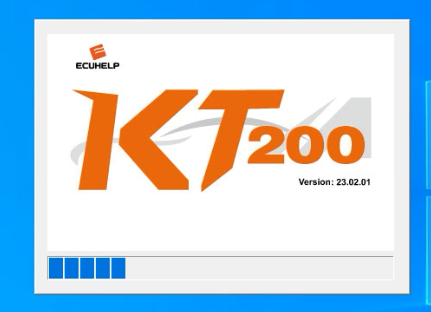 4. KT200 Full version is optional to add one extra
Offline Dongle
so that it will work in offline mode.
5. KT200 Language: Italian, English, Dutch, French, Spanish, Polish, Portuguese, Czech, Romanian, Turkish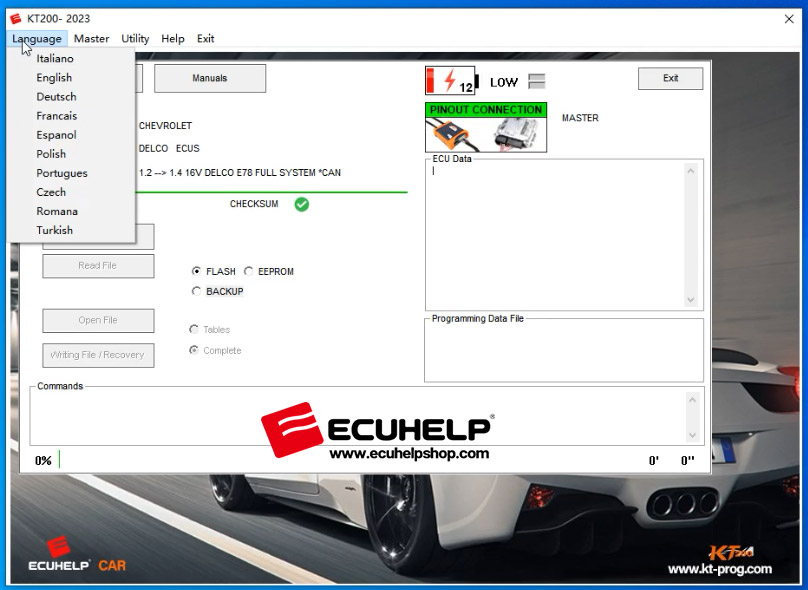 6. KT200 PCB board: Built-in with green chipboard which is encrypted and safe performance.
7.
Register and activate:
No need
8. Computer Limitation: No limited, compatible with any pc(no limit volume of PC)
9.
Operating system:
Windows 7, Windows 8/8.1, Windows 10, Windows 11
Minimum Recommended Requirements: CPU > 2.5 GHz (Intel i5, i7), RAM > 8GB
10. KT200 supports Auto Checksum Calculation for certain parts of ECU. However, for optimal results, it is recommended that you perform manual checksum using tools like Winols, Davinci, Lsuite, or similar ones, after purchasing KT200, you can obtain a free Winols 4.7 or Davinci 1.0.28 2022 by contacting Oliver via WhatsApp at:
+ 8618205996549
11. Software Update:
Free Update Online. No Annual Subscription
12. Get free VR files and Damaos files (
Get free VR file and DEMO in this software
ECUHelp V3.0
)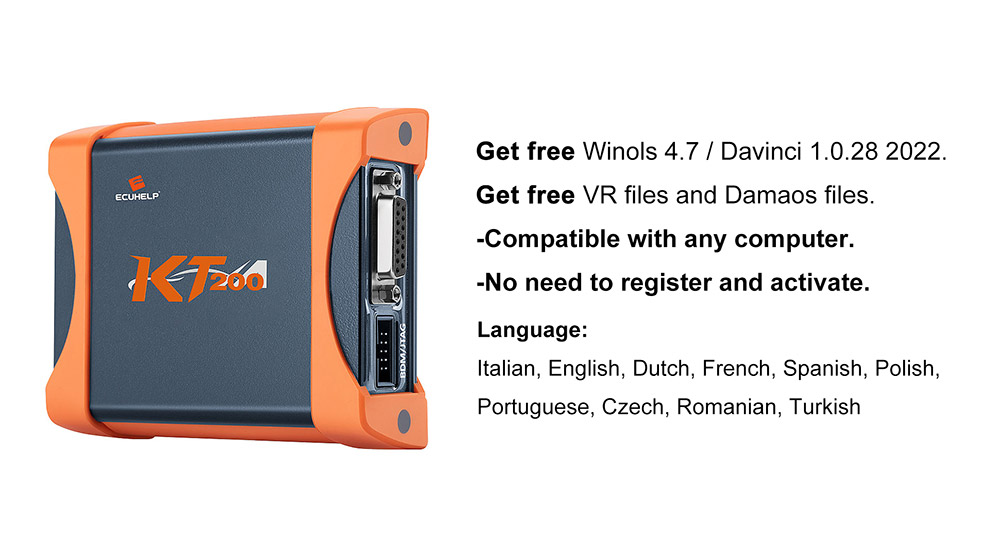 KT200 Full Version Coverage:
KT200 Full Version Software includes 10 licenses: Car OBD, Truck OBD, Tractor OBD, Boat OBD, Motorbike OBD, Full System, BDM/JTAG, TOOL BOOT, Bench Mode, TCU Gearbox.
KT200 ECU Programmer Support ECU List
KT200 ECU Programmer Support TCU List
ECU Brand Coverage:
For Bosch, Marelli, Siemens, Ford, Delphi, Denso, Transtron, Adem, Delco, Continental,Motorola, Valeo, Sagem,Johnson Valeo,Visteon,Visteon Fomoco,Phoenix,Temic,Temic,Deutz, SISU, Mitsubishi, Siemens Continental, Visteon Fomoco,TRW,Temic,Hitachi, Trionic, Visteon,TRW,Mems, Lucas.
Car:
Abarth, Alfa Romeo, Aston Martin, Audi, Baic, Belarus, Bentley, BMW,Chery, Chevrolet, Chrysler, Citroen, Corvette, Cummins, Cupra, Dacia, Daewoo, Deutz,Dodge,Doosan, DR,Effedi,Faw Jiefang,Fendt, Ferrari, Ferrari - Maserati,Fiat Alfa Lancia FCA, Fiat, Ford, Ford - Jaguar, Ford – Mazda, Ford – PSA, Ford - PSA - Volvo, Ford – Volvo, Geely, GM, GM-Opel, GMC, Great Wall, GWM, Hino, Honda, Hummer, Hyundai, Kia, Infini, Isuzu,Iran Khodro IKCO,Iveco, Jac, Jaguar, Jeep, Jeep - Chrysler, Kia, Kia - Ssangyong, Ktm, Lada,Lamborghini, Lancia, Land rover, Land rover Freelander,LDV, Lexus, Mahindra, Man, Maserati, Mazda, MC Laren, Mercedes Benz, MG, Mini, Mitsubishi, Nissan, Opel, Opel GM, Peugeot, Porsche, PSA, Renault, Rolls Royce, Rotax, Rover, Rover MG, Saab, Same, Skoda, Smart, Ssang Yong, Subaru,Suzuki, Tata, Toyota, UAZ, VAG, Volkswagen, Volvo, XCMG.
***Covering a full range of cars from Europe, Germany, France, Italia, Japanese, American, and Chinese models.
Truck:
Astra, Bugatti, Caterpillar, Claas, DAF, Deutz, Faw, Fendt, Fergusson, Ford Transit, Hino, International, Isuzu, Iveco,Iveco Daily, Iveco Stralis, New Holland truck, Iveco Tector - New Hollan truck, Iveco Tector - New Hollan truck, Jac, Kamaz, Kia, King Long, King Long Bus,Landini, Mack, MAN, Massey Ferguson, MC Cormic, New Holland, Nissan, Renault, Renault – Volvo,Renault Mascott, Scania, Seat, Shaanxi,Shacman, Sinotruck, Sisu,Steyr, Still, Thaco, Valtra,Volvo Truck.
Tractor:
AFT, Agco, Agrale, Agrifac, Artec, Axial-Flow, BCS, Bobcat, Bravo, Carraro, Caterpillar, Challenger, Claas, Deutz, Deutz Fahr, Dieci, Fendt, Gehl, Grim, Guaresi, JCB, Jhon deere, Kioti, Komatsu, Kramer, Kubota ,Lamborghini, Landini, Lindner, Massey Ferguson, MCCormik, Merlo, New Holland, Oxbo, Same, Sgariboldi, Supertino, Tecnoma,Valtra, Valtra Tractor, XCMG, Yanmar.
Excavator:
Case, Bobcat, Doosan, Hitachi, Steyr,
Motorbike:
Aprilia, Benelli, BMW Moto, CF Moto, Derbi, Ducati, Gilera, Harley Davidson, Indian Motorcycle, Kawasaki, KTM, Moto Guzzi, MV Agusta, Piaggio, Royal Enfield, Suzuki,Yamaha
Marine:
Iveco,Sea Doo, SISU Engine, Volvo Penta, Yanmar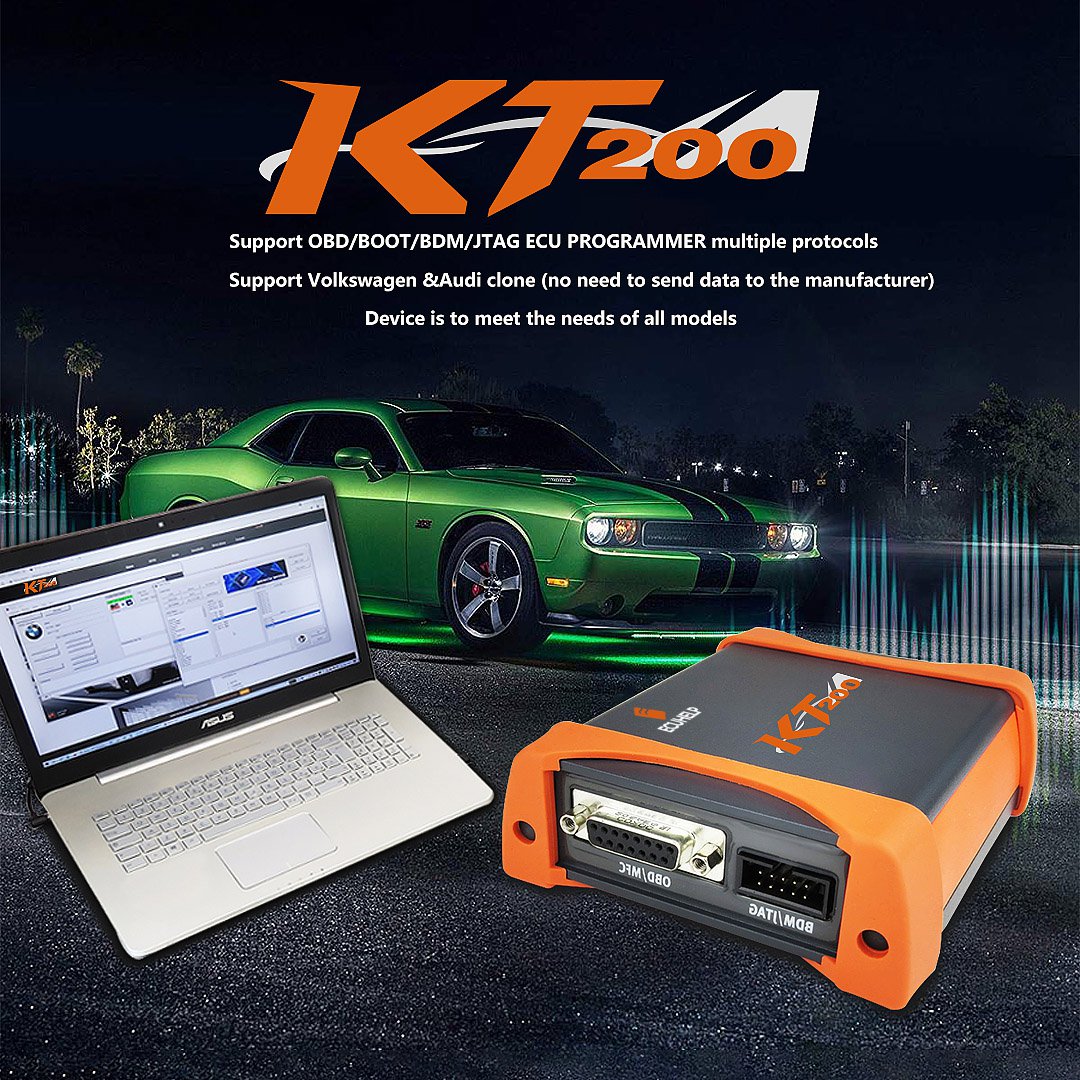 Here take some ECU types that KT200 support for examples:
Full Read And Write Via Pin Out in Bench Mode:
BOSCH EDC7
BOSCH EDC16
BOSCH ME9 / MED9
BOSCH MD1
BOSCH MG1
-FREESCALESPC5777
-AURIXTC29x
-STSPC58
BOSCH EDC17
BOSCH MED17 / ME17
SIEMEN SPCR2.1
(Unlocking also possible via pinout)
Full System Via Pin Out (Micro / Flash + EEPROM)of ECUs:
BOSCH
CONTINENTAL
DELCO
DENSO
MARELLI
SIEMENS
TEMIC
TEMIC
BDM EJTAG Modes For:
BDM MPC55x
BDM MPC56x
BDM MC32 / ZC32
BDM HC12 / S12x
JTAG NEXUS MPC / SPC56xx
JTAG NEXUS MPC55xx

JTAG RENESAS:
SH7055
SH7058
SH7059
SH7251
SH72543
SH72544
JTAG NEC76F00xx
76F0038AGD
76F0038GD
76F0039AGD
76F0039GD
76F0040GD
76F0070
76F0070
76F0085
BOOT MODEC16729Fxxx:
BOOT MODE ST K-LINE / RX-TX / CAN
ST10F168
ST10F269
ST10F273
ST10F275
ST10F276
ST10F276
ST10F280
ST10F296

BOOT Mode Tricore for micro:
TC1724
TC1728
TC1738
TC1738
TC1762
TC1766
TC1767
TC1782
TC1791
TC1792
TC1793
TC1793
TC1796
TC1797
BOOT Mode Renesas:
SH7052
SH7054
SH7055
SH7055
SH7058
SH7059
SH7251
SH72543
SH72544
BOOT Mode Mitsubishi:
MH7202
MH7203
MH8102F
MH8105F
MH8106F
MH8202
MH8206F
MH8301F
MH8301F
MH8304F
MH8405F
BOOT BAM System MOTOROLA:
SPC5674
SPC5777
-BOOT MODE Fujitsu
-BOOT MODE Hitachi
ECUHELP KT200 Full Version VS Auto Version VS Offline Workstation: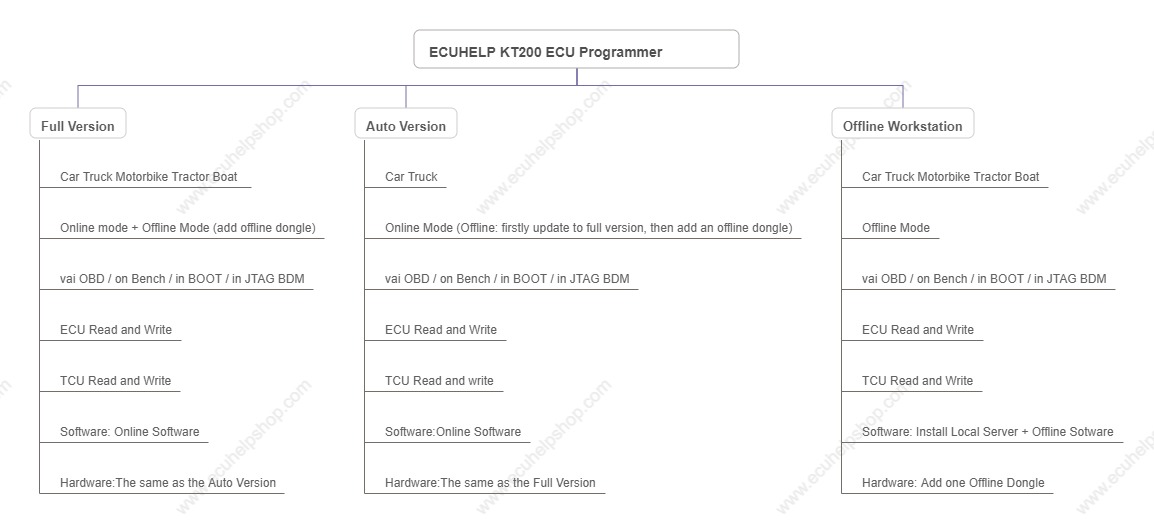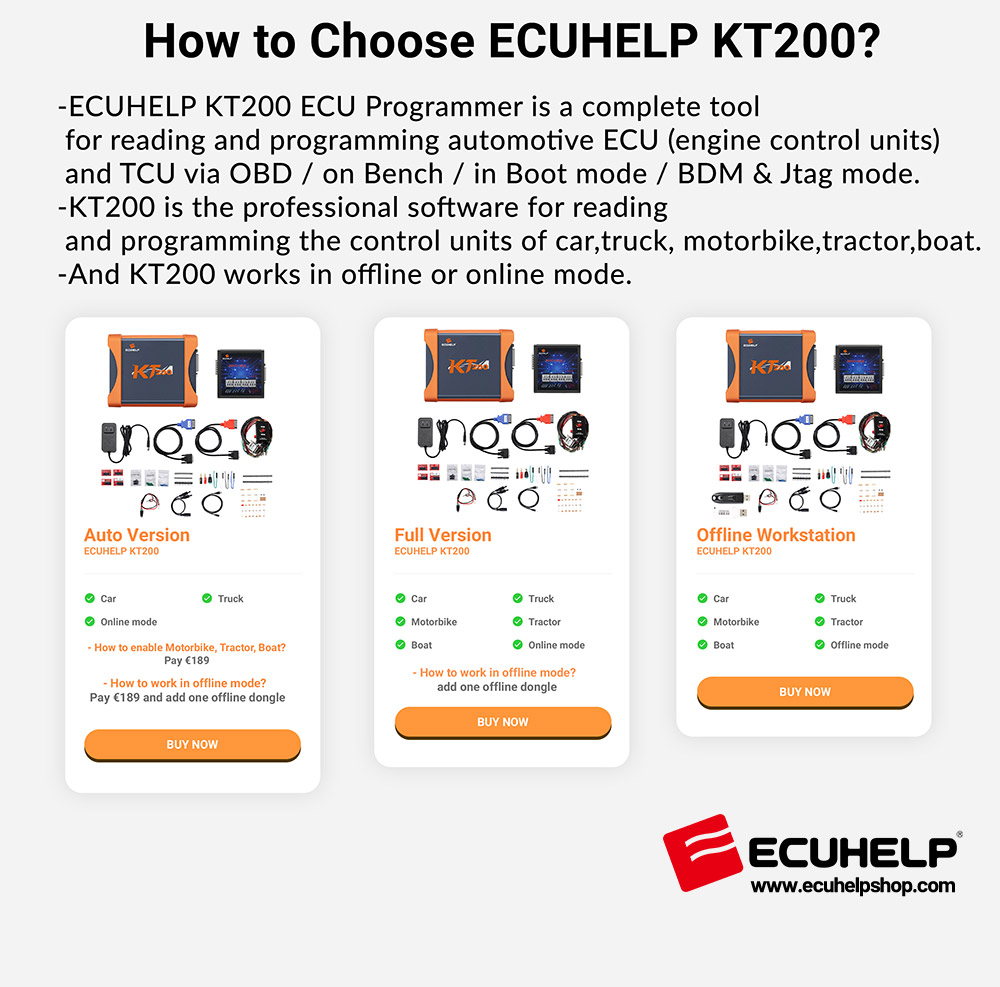 Ecuhelp KT200 2023 software update(02/01/2023 ):
1. Fixed the bug that the software functions were not synchronize.
2. Optimized server connection time, high speed and convenience.
3. Fixed the problem that some models are prone to error messages when reading and writing in bench model.For example, EDC17 series.
4. Optimized tool checksum issues (except EDC17 series)
5. Optimized the full system function in the software function.
6. Shortened the read and write process time, more quickly.
7. Fixed the TCU response speed, some models are prone to errors in the reading and writing process.

How To Install KT200 New Software V12.10?
Step 1: Download the kt200 service and installation package, Unpack the packages and complete the installation.
Step 2: Connect the device, open the "Device manager" in your computer and manually install the device driver. After completion, open the kt200 service
Step 3. Click " download software" in kt200 service to install the KT200 work software, it will automatically update the newest version, and wait for the installation.
Step 4. Click the "Wiring diagram "to download (this has all the wiring picture the device supported), and it will automatically download and complete the installation.
Step 5. After completing the software download, You can open the software normally. And after downloading the Wiring diagram, you can do the ecu work normally.
Step 6. When the software cannot be opened, you can click the "Diagnosis" button in KT200 service software first for detection.

Operating system:
Windows 7
Windows 8/8.1
Windows 10
Windows 11

Notice:
1. Please close the anti-virus program before you run the KT200 software, it may incorrectly identify the software as harmful and break it.
2. For KT200 onlin version, please connect to the Internet to work with KT200 software.

KT200 2022.12.10 new update:
NEW AUTOMATIC FUNCTION: TRICORE CLONE
Added automatism to clone the following control units with OTP zone adaptation and password:
– BRP Can-Am ME17.8.5
– BMW MED17.2
– BMW MEV17.2
– MINI MED17.2
– MINI MEV17.2
– MERCEDES BENZ EDC17 CP01
– OPEL EDC17 C84
– OPEL EDC17 C42

Here are some images showing how to connect ECUHLP KT200 to the ECU model: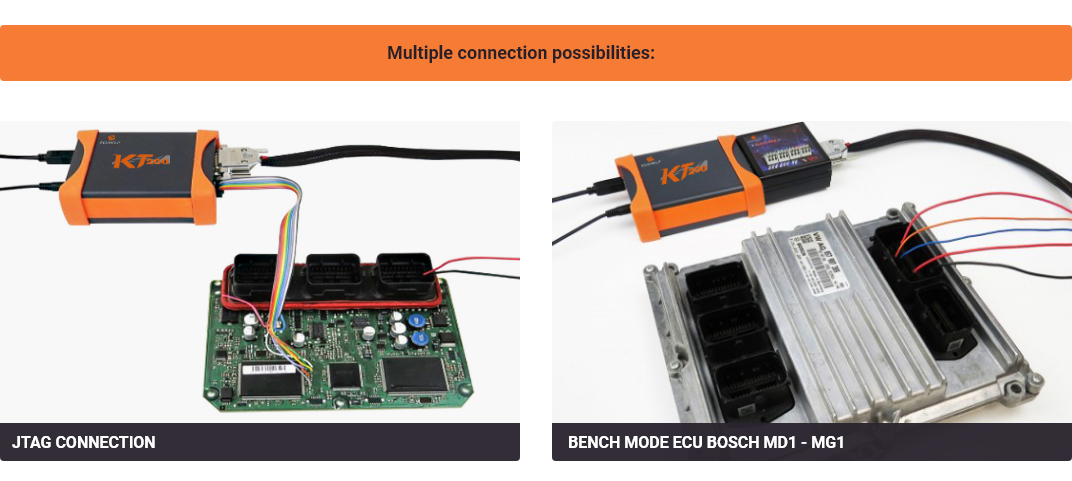 ECUHELP KT200 Full Version Package Includes:
1pc x Master
1pc x BENCH box
2pcs x OBD wires
1pc x pinout line
4pcs x BOM adapters
3pcs x Transfer cables
4pcs x Power wire
1pc x Set of resistors
4pcs x Adapter plugs
5pcs x Power adapters
---
---
We are dedicated to providing excellent support and assistance. If you have any questions, concerns, or inquiries, please don't hesitate to reach out to us. Our team is here to help!
Email:
Sales@ECUHELPshop.com
Whatsapp:
+86-18205996549
Skype:
Sales@ECUHELPshop.com
Live Chat:
Visit our website and click on the live chat option to chat with Oliver Liu in real-time.