kt200 upgrade with offline
ECUHELP KT200 Auto Version Upgrade Full Version + Offline Workstation
ECUHELPshop Black Friday Sale, Automatically Apply Coupon Code During Checkout.
Got any question? message Oliver WhatsApp:
+ 8618205996549
SKU:
EP-KT200AU+EP-KT200DG Available: In Stock
Free Shipping
Standard Post Shipping Service, Estimated delivery time: 7-18 working days
| | |
| --- | --- |
| Returns | Return for refund within 30 days, buyer pays return shipping. |
Features
EnableTractor OBD, Boat OBD, Motorbike OBD.
ECUHELP KT200 works in Offline mode, more convenient to work outdoors,No longer have to worry about poor network signal affecting work.
Product Description
ECUHELP KT200 Auto Version Update to Full Version Update Service
1. Simply provide us with
the Machine ID
located at the back of your machine after making the payment.
2. There's
no need to ship any extra adapters
. The Full Version package includes all the adapters offered in the Auto Version.
What are the benifits after updating full version and geting one offline dongle?
1. Enable all of these license: Car OBD, Truck OBD,
Tractor OBD, Boat OBD, Motorbike OBD
, Full System, BDM / JTAG , TOOL BOOT, Bench Mode, TCU Gear.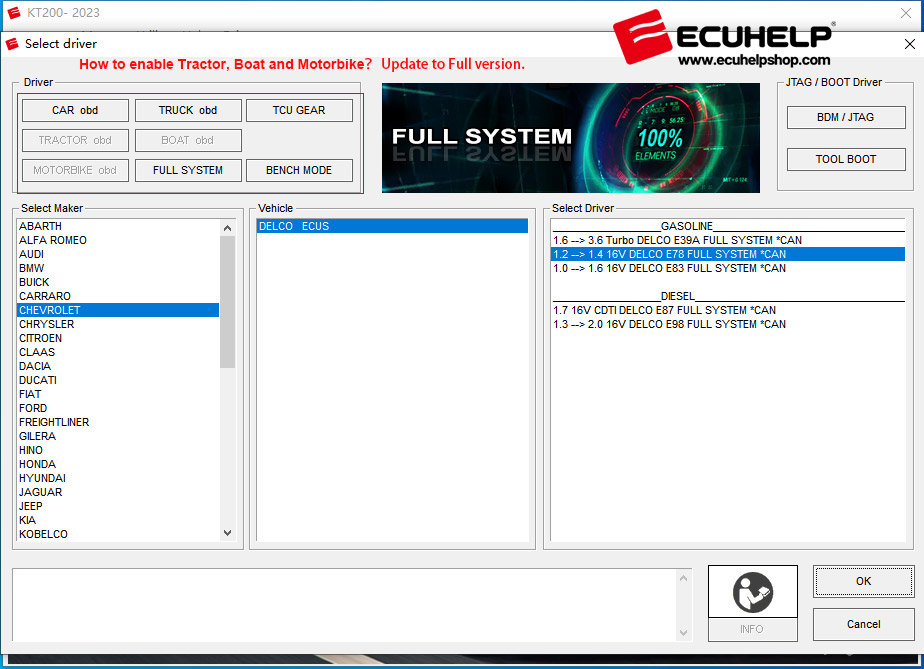 | | | |
| --- | --- | --- |
| | Auto Version | Full Version |
| Car OBD | √ | √ |
| Truck OBD | √ | √ |
| Tractor OBD | × | √ |
| Boat OBD | × | √ |
| Motorbike OBD | × | √ |
| Full System | √ | √ |
| BDM / JTAG | √ | √ |
| TOOL BOOT | √ | √ |
| Bench Mode | √ | √ |
| TCU Gear | √ | √ |
2. KT200 offline workstation works.
More covenient to work outdoors,No longer have to worry about poor network signal affecting work.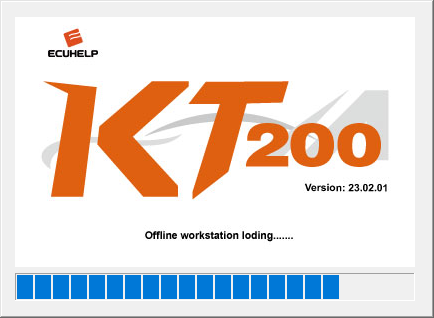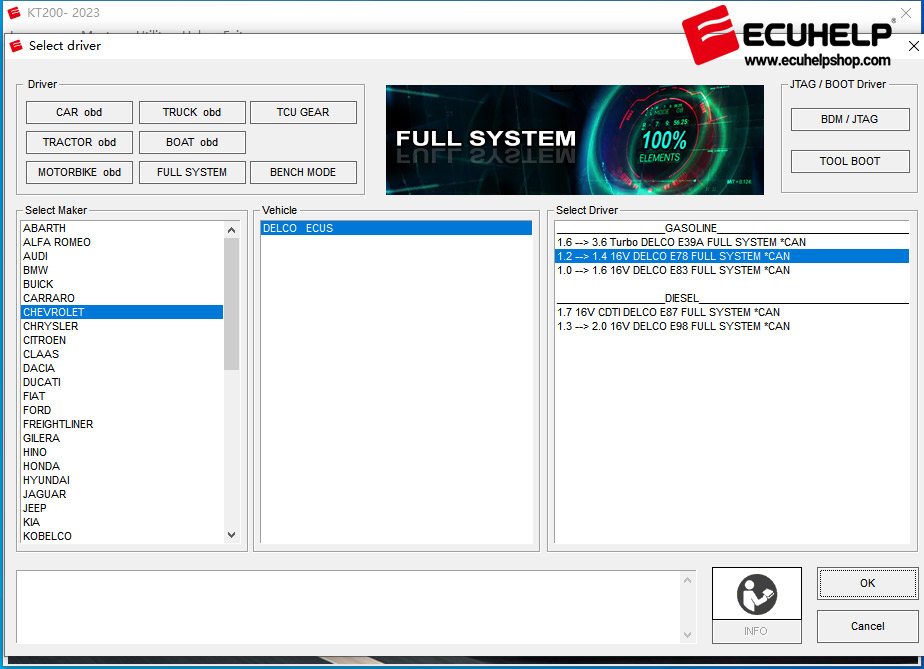 How to install KT200 Offline WorkStation?

1. Run setup to install KT200 software.
2. The software want to work offline, you have to build a local server, and please make sure the C drive has more than 15GB of space available. Open the KT200_ftp folder, run offline installation.
3. Run KT200 to work.
1. Plug in the device (Figure 1), run the setup, and install the KT200 Software (Figure 2)
Figure 1
Figure 2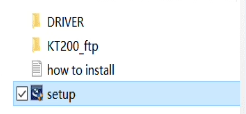 2. After installing the KT200 Software, make sure the C drive has a capacity of 15G or more.

3. Make sure you have enough space to run the installation of KT200_ftp.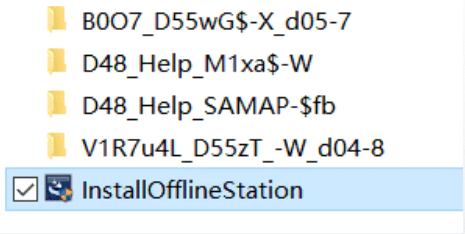 4. After completing the installation, insert the dongle and run the KT200.exe program to complete the first update activation.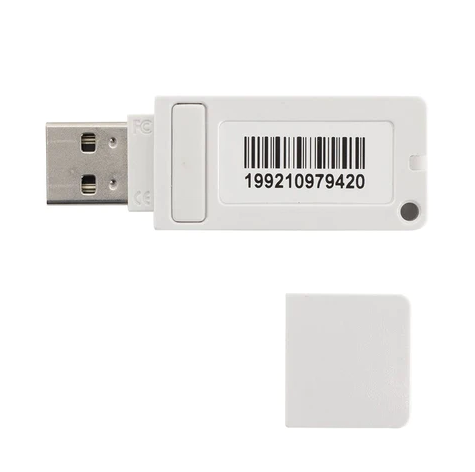 5. Click to activate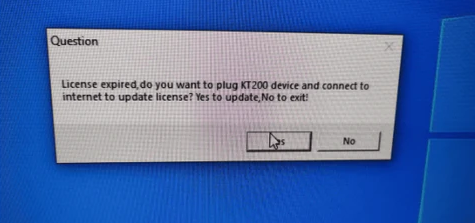 Notice: Please connect to the KT200 online server once every 15 days for newer updates.
6. Complete the activation and open the Software.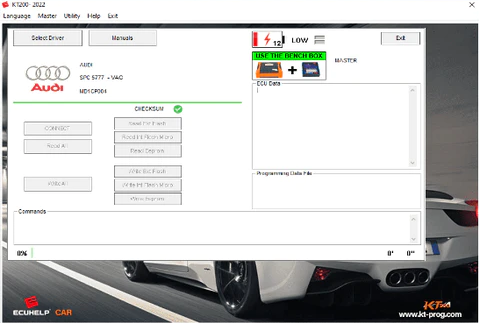 Package:

1*provide device ID to Ecuhelp Online Service, then we can upgrade directly, donot need to ship.

2*The black one: contains software and installation instructions

3*The white one: the dongle to install before the kt200 full version works offline

Note: It must be installed online before it can work offline.
---
We are dedicated to providing excellent support and assistance. If you have any questions, concerns, or inquiries, please don't hesitate to reach out to us. Our team is here to help!
Email:
Sales@ECUHELPshop.com
Whatsapp:
+86-18205996549
Skype:
Sales@ECUHELPshop.com
Live Chat:
Visit our website and click on the live chat option to chat with Oliver Liu in real-time.
Tech Support
Question: Have ECUHELP KT200 auto version (with Car obd, truck obd, TCU gear, full system adn Bench mode, how to enable tractor obd, Boat obd, Motorbike obd?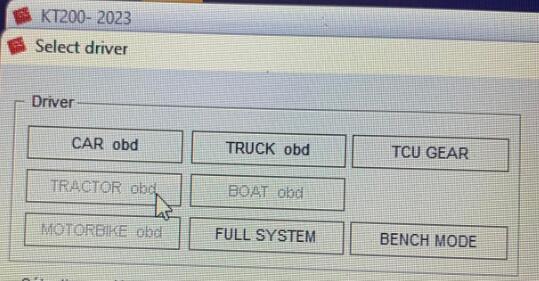 Solution: upgrade to the full version and you will enable tractor, Boat, and Motorbike.
If you want to make it work in offline mode, add one more offline dongle too.
Customer Questions & Answers
There are no question yet.
Customer Reviews
Be the first to review this product.