Product Description
Black Friday Sale:
Before November 18, 2023, if you haven't purchased an ECUHELP KT200 Kit yet, advise you to buy this package of KT200II Full Version Host+ KT200 Full Version Whole Set + Offline Dongle + Htprog, it is $$ cheaper than buying the KT200II directly, and it adds many more protocols. Here is the KT200II newly added protocols list
If you have any questions, PM Oliver WhatsApp:+ 8618205996549

KT200II ECU Programmer Highlights:
1. New protocols have been added, and more and more will be added frequently in the future.
2. Fixed the automatic checksum problem of the first generation KT200, and the reading and writing efficiency has been greatly improved.
3. Many new virtual files have been added to the server.
4. Strengthened the protection of ECU, and will prompt you immediately if an operation error is made.
5. Optimized server access efficiency.
6. OBD reading and writing is stable.
7. Support DELPHI DCM7.24 ECU
8. Can work with htprog too
9. New automatic function:Tricore Clone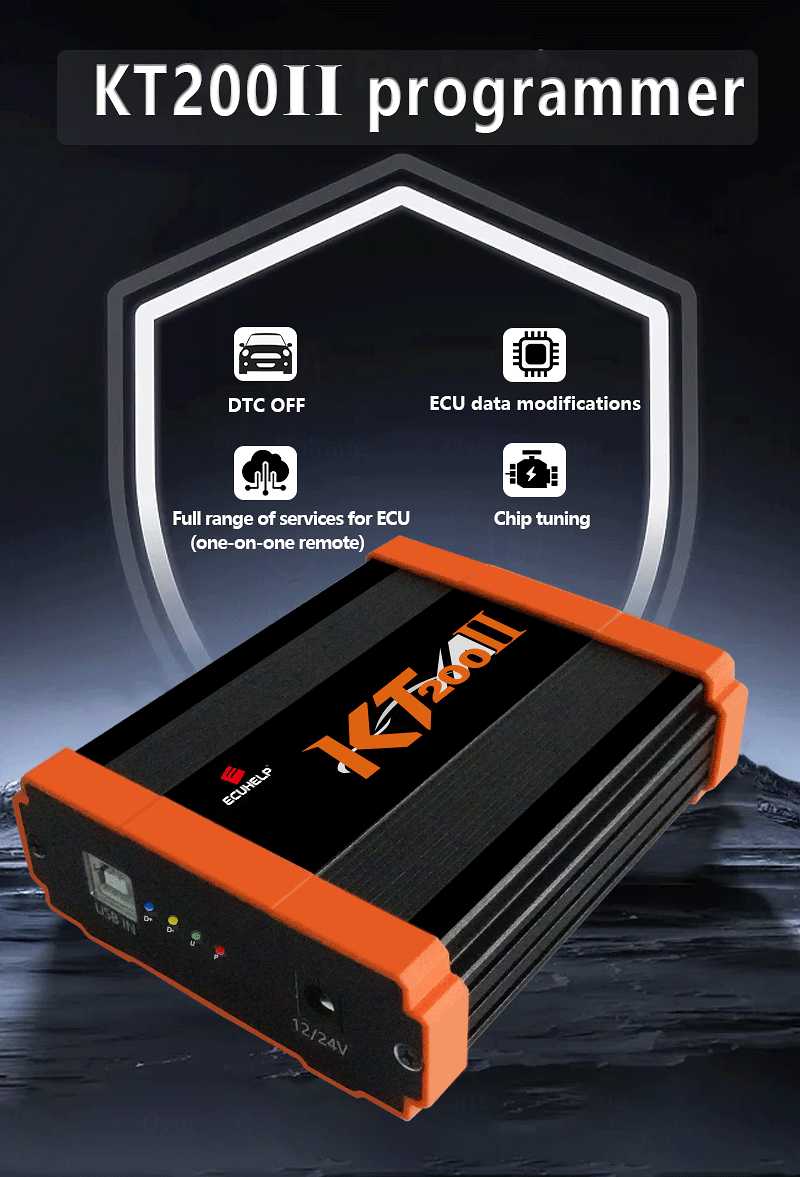 KT200 ECU Programmer Details:
1. KT200 ECU Programmer from ecuhelpshop.com covering up to 5400 ECU, and over 500 TCU.
2. Support Audi / VW ECU Clone via Bench Mode pinout.
3. Bosch EDC17, MED17 / ME17, and SIEMENS Pcr2.1(with Pinout also unlocking possibility) read and write in Bench Mode.
4. ECUHELP KT200 ECU Programmer Vehicle list is constantly updated and stays ahead of the industry.
5. The KT200 ECU programmer software allows you to forcibly write (forcible clone) without checksumming and supports forcibly reading and writing unknown ECUs with supported chip models.
6. Covering a full range of German, ECU Programmer, Japanese, American, and Chinese models.
7. Software Update: Update online free lifetime. No subscription, No Annual Fee.

Product Function:
EGR & DPF Removal, IMMO OFF, releasing speed limit, mileage correction, Hot start or Cold Start Vmax, and so on.
The list of vehicles is constantly updated, which keeps you at the forefront of the industry.
Support Volkswagen Audi clone (local operation without sending data to manufacturers)
ECU maintenance, Chip tuning, DTC code Removal, and professional reading and writing equipment cover 99% of the models in the market.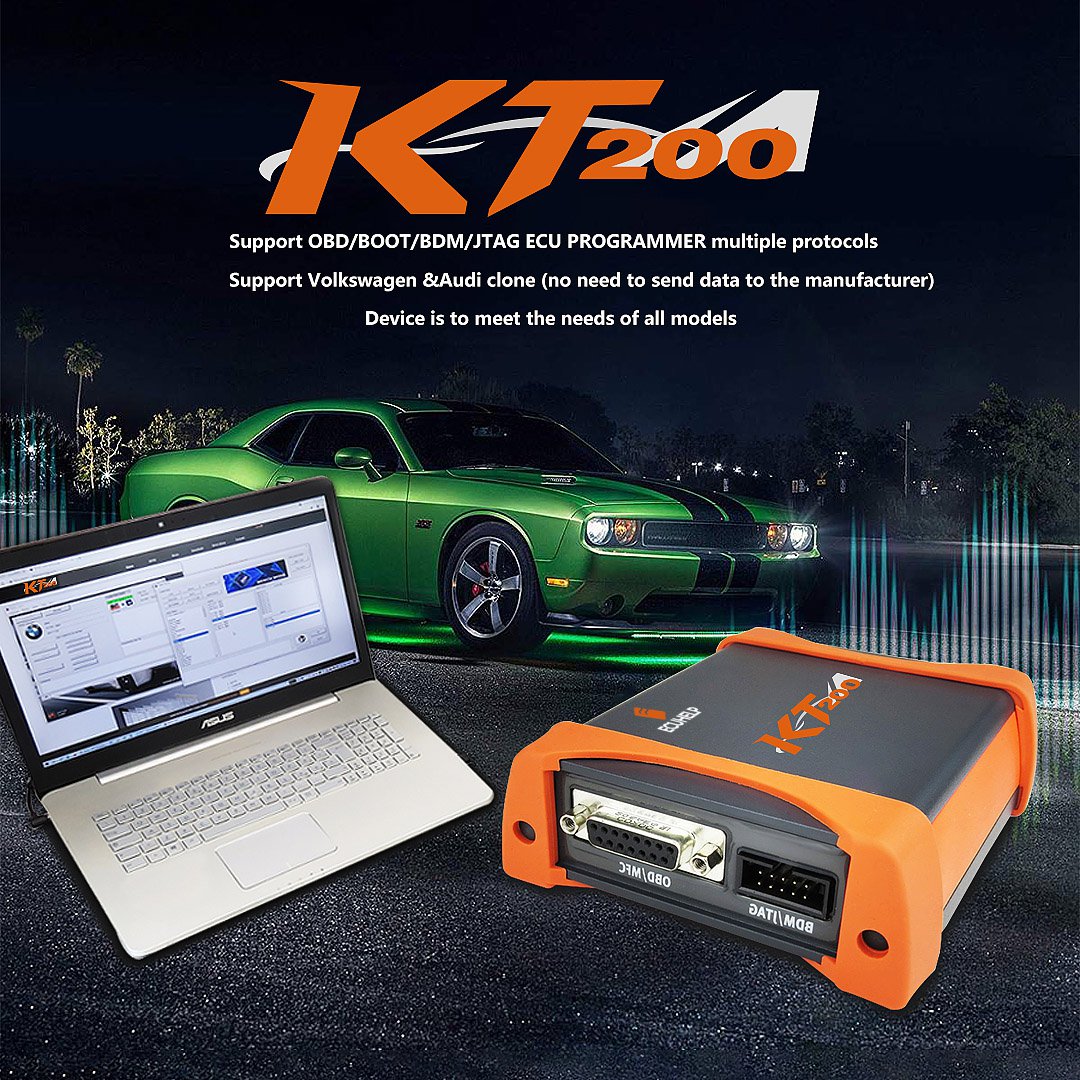 Here are some images showing how to connect KT200 ECU Programmer: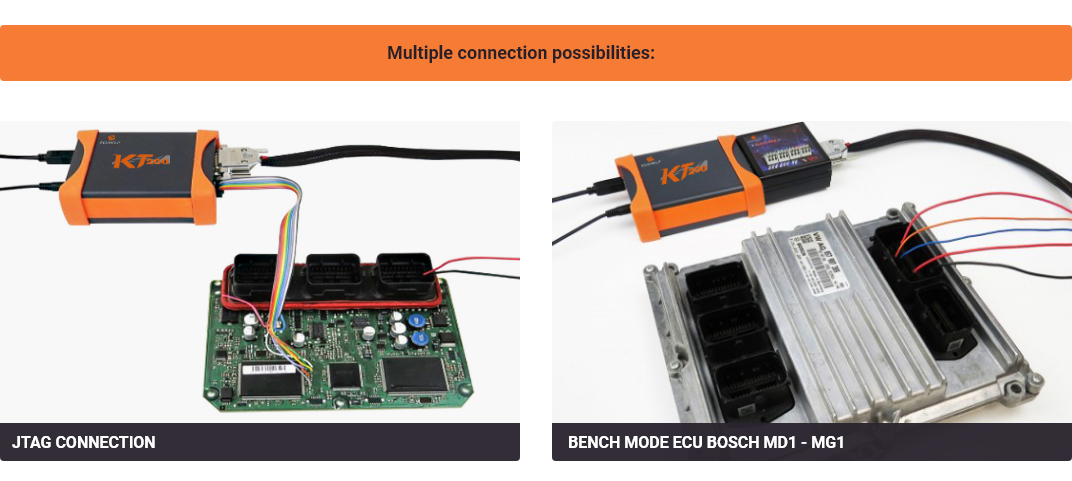 ECUHELP KT200 Full Version Package Includes:
1pc x Master
1pc x BENCH box
1pc x Offline workstation
2pcs x OBD wires
1pc x pinout line
4pcs x BOM adapters
3pcs x Transfer cables
4pcs x Power wire
1pc x Set of resistors
4pcs x Adapter plugs
5pcs x Power adapters
1pcs x ECUHELP kt200 adapter
1pcs x ht prog clone adapter pinout line
---
We are dedicated to providing excellent support and assistance. If you have any questions, concerns, or inquiries, please don't hesitate to reach out to us. Our team is here to help!
Email:
Sales@ECUHELPshop.com
Whatsapp:
+86-18205996549
Skype:
Sales@ECUHELPshop.com
Live Chat:
Visit our website and click on the live chat option to chat with Oliver Liu in real-time.
Customer Questions & Answers
There are no question yet.
Customer Reviews
Be the first to review this product.